​25 Gift Ideas for Beer Lovers
Buying a gift for the beer lover in your life isn't quiet as intimidating as you may think. Regardless of whether they're a complete snob for hazy, juicy IPAs or the kind of person who just likes to crush session beers—or, hey, both!—there are so many beer accessories and gadgets that are beer-geek approved.
Here's a list of both high-tech gear and simple upgrades for anyone whose life centers around beer. These great gifts for beer lovers will take any beer drinking experience to the next level, whether it's on the trail, on the table, or even in the shower.
And, really, who could ask for anything more?
Burton Double Beeracuda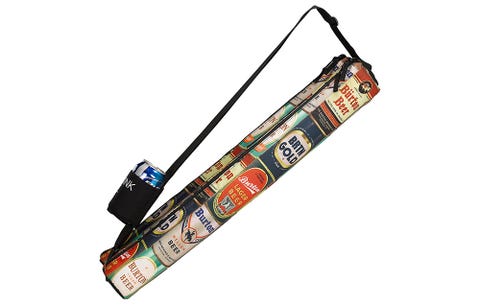 Burton
What's cooler than a cooler? A cooler backpack. What's cooler that a cooler backpack? Or, at the very least, a lot more fun to carry around? The Burton Beeracuda, an insulated beverage sling that's made to take beers on the go. The original sling holds a total of six 12-ounce cans—five in the sling and one in an attached koozie—but if you really want to party, the Burton Double Beeracuda offers twice the capacity, 11 12-ounce cans in the insulated sling, and one for the road in the shoulder strap holder. We especially like the Das Cuda colorway, depicting faux Burton beer brands. It's only a matter of time before Burton collaborates with a brewery.
Buy It Here
Run for Beer Socks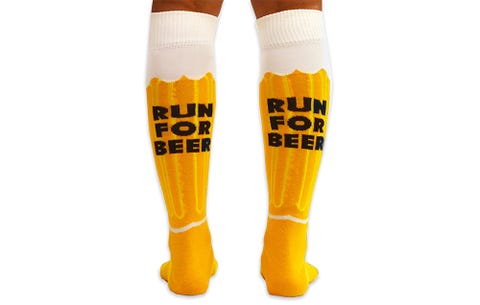 Run for Beer
We know you have that friend who somehow manages to coexist as both That Guy Who Knows Everything About Beer and That Guy Who's Always Training for Marathons. It's unclear how he does it, but what we do know is that these knee-high Run for Beer socks are the perfect gift for him. As a beer-loving runner, he'll greatly appreciate the opportunity to stand out in the crowd and stand up for what he believes in, all while knowing you'll be rooting for him—from the bar, that is.
Buy It Here
Drinking Buddy Bottle Opener Hat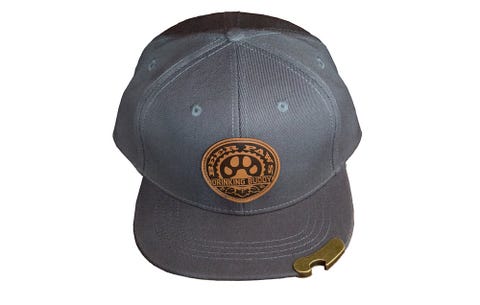 beer paws
If only he kept a bottle opener by his side as often as his trusty canine sidekick—maybe then he wouldn't keep reaching for your phone, or the side of your table, or whatever's in sight to open his beer. Never worry about a chipped counter or tooth again with Beer Paws' bottle opener hat. Charcoal gray, flat-brimmed, with a snapback and a leather patch, it's actually pretty stylish, and will help (both of) you out time and time again.
Buy It Here
BRÖÖ Craft Beer Barber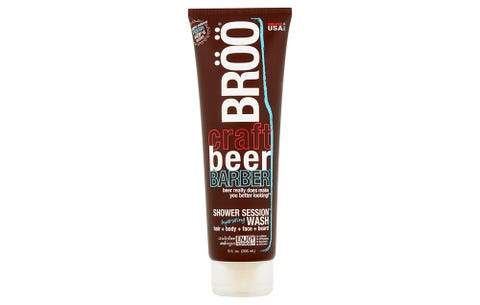 BRÖÖ
When BRÖÖ came out with craft beer shampoo, we weren't really sure what to think. But now that it's expanded the product line to include more hair care and grooming products, and bumped its retailer list from exclusively Walmart to more than a dozen stores, we're totally game. The most recent line, Craft Beer Barber, is geared toward the guys, including the Shower Session Wash (for hair, face, body and beard); the Condi-Shave Cream (an in-shower hair and beard conditioner); and the Mug and Mane Lotion (part post-shave balm, part-styling lotion, part-plain old face lotion). The best part about BRÖÖ is all of its products smell like the best parts of beer—floral, fruity, and invigorating—while using real hops and barley extract and no artificial fragrances or nasty chemicals.
Buy It Here
Hydro Flask Brew Bundle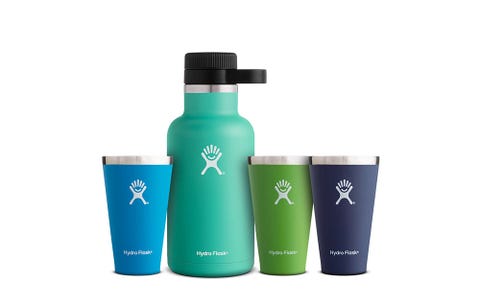 Hydro Flask
Along with being the ultimate water bottle for any adventure thanks to its double-walled, vacuum-sealed insulation keeping H2O cold for up to 24 hours, Hydro Flask is also perfect for beer. It has proved it further and made it more fun with the Hydro Flask Brew Bundle, fashioned for a group of beer drinking buddies on the go. The 64-ounce growler and three stackable pint-sized cups come in a Fresh Carry System that's meant to keep your beer bubbly in any temp or terrain.
Buy It Here
Fizzics Beer System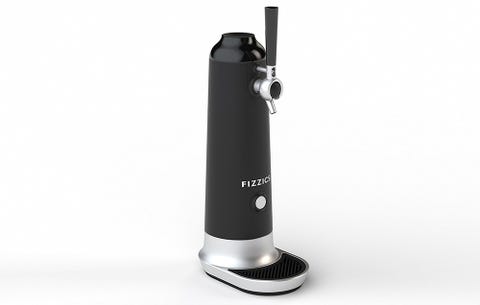 Fizzics
Some drinkers are only satisfied when their beer pours fresh from the tap. For the barfly who wishes he could bring the taps home with him (or the beer geek who loves gadgets as much as reciting hop varietals), meet Fizzics, an at-home, portable beer dispensing system that carbs up any beer, compatible with cans, bottles, or even growlers.
Buy It Here
Igloo Trailmate Journey Cooler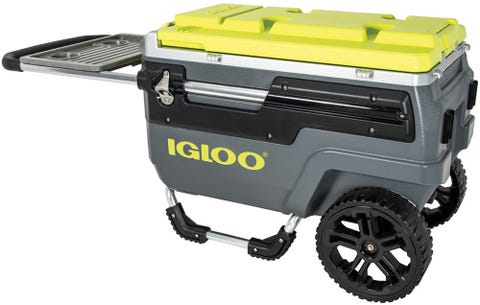 Igloo
A cooler is one of life's necessary evils: impossible to fit in a small apartment, yet impossible to live without should drinking outdoors be one of your hobbies. The Trailmate Journey works from the park to the parking lot, so it's worth finding the space, no matter how tiny your living space. Specs include 10-inch wheels and a 70-quart capacity, meaning any beer-loving crew can lug 112 12-ounce beers with ease. This SUV is also complete with bottle openers, dry storage, a food basket and a media device holder, so you don't have to worry about leaving anything behind.
Buy It Here
RCA 3.2 Cubic Foot 2 Door Fridge and Freezer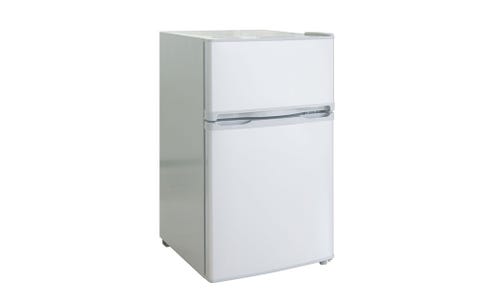 RCA
Beer fridges built and branded specifically for beer tend to be smaller and more expensive. For a more affordable and cooler option—literally, this one has a freezer and is half the price of other beverage refrigerators—consider this pick by RCA. Although we don't recommend freezing your beer, you can use the small freezer on top for ice cubes, and free up more space in your actual freezer for what's important, like frozen fruit, meats, and mini pizzas, obviously.
Buy It Here
13-Piece Beer Tasting Set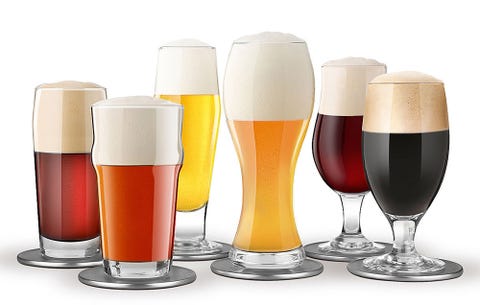 uncommon goods
If you've befriended a budding beer enthusiast who's still drinking out of ordinary cups, this budget-friendly glassware set is the perfect start to his beer glass collection (which, we can guarantee, will grow after you buy him this). Six beer glasses include a pilsner, porter/stout, wheat, nonic, stange, and tulip, paired with six stainless steel cork-backed coasters and a beginner-friendly beer tasting guide advising on beer serving temperatures and food pairing suggestions.
Buy It Here
Marble Trivet and Stackable Coaster Set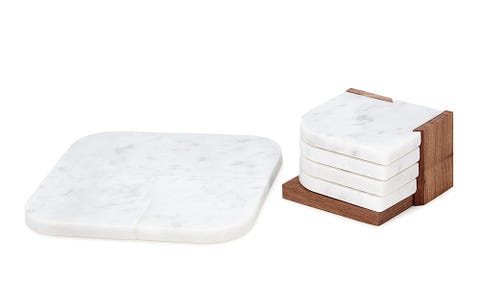 uncommon goods
For that friend who obsesses over Scandinavian design and the slick simplicity of marble, this coaster set will impress threefold. They're stylish and made by an independent industrial designer. And they not only function as individual coasters, but fit together to form a polished protective surface for hot dishes.
Buy It Here
Beer Cap Map Christmas Ornament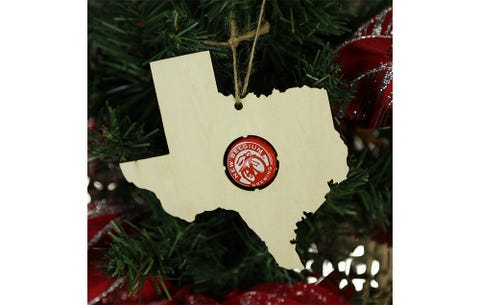 Etsy
Forget the bottle cap map of all 50 states. Get a little more personal with a small ornament in the shape his favorite place to drink, available as a single state or in a set of however many you want to buy. Along with the traditional Christmas tree option, the beer cap map ornament can make a fine home for itself in his cubicle, home office, or car. The bottle cap is not included, so pop one in from a brewery they love, or let they decide which is most worthy.
Buy It Here
Bottle Cap Catcher Art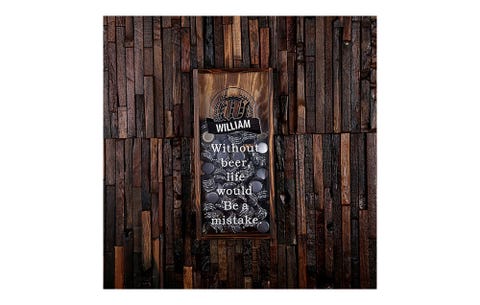 Etsy
Trendy as the tallboy may be, many great beers are still sold in bottles. And lots of the caps are actually pretty artistic and interesting. Collecting them in a shadowbox not only keeps your living space neat and clean, but becomes a brewtiful visual journey as you drink your way through six packs and specialty large-format bottles. This particular beer cap holder from Teals Prairie & Co. can also be customized.
Buy It Here
Brooklyn Brew Shop Beer Making Kit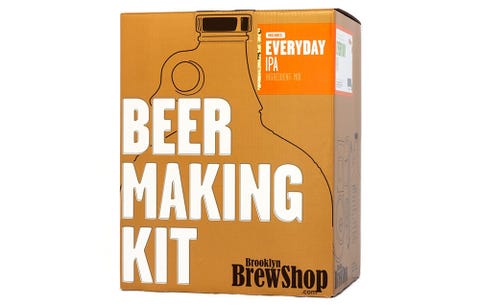 Brooklyn Brew
Fermentation enthusiasts who like things a little more hands on will appreciate a Brooklyn Brew Shop Beer Making Kit, the perfect way to test drive DIY brewing. With kits available in the small batch size of one gallon (along with the typical five gallon size, should they choose to ramp it up), they span original recipes like the Everyday IPA as well as brewery collaborations such as BrewDog Punk IPA and Stillwater Gose Gone Wild. We can tell you firsthand that this kit is well worth the investment. Additional Beer Making Mixes allow your friend to make their own beer again and again.
Buy It Here
Session Beers: Brewing for Flavor and Balance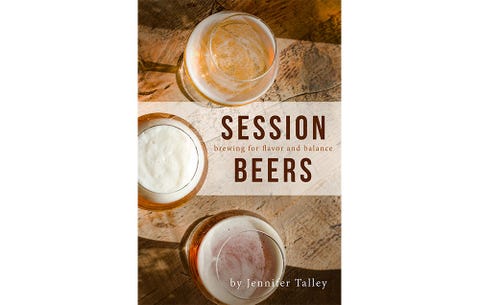 Session Beers
For your homebrewing buddy that's past the starter-kit phase, pick up a book that explores a specific style of beer making. After all, education and recipes can be one of the most invaluable tools to help him hone his craft. In Session Beers: Brewing for Flavor and Balance, the latest from Brewers Publications, the publishing arm of the Brewers Association (a trade group that champions for small and independent craft brewers), author and brewer Jennifer Talley combines the history and how-to of session beer brewing.
Buy It Here
ReGrained Grain Bars: Eat Beer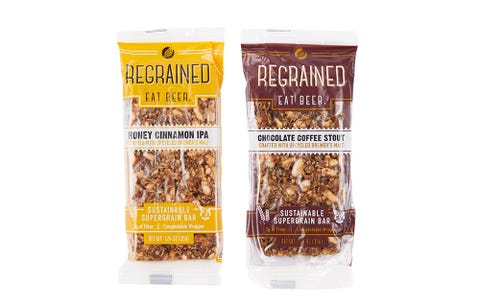 ReGrained Grain Bars
Some good snacks to pair with a road soda. ReGrained, the power bar for the beer lover and tree hugger, makes sustainable snacks using spent grain (the stuff typically discarded after a beer is brewed). Still nutritious and definitely delicious, ReGrained upcycles what so many breweries often trash, and bake the wheat, oats, and barley into tasty, healthy treats. The bars come in two flavors, Honey Cinnamon IPA and Chocolate Coffee Stout.
Buy It Here
Beer Gift Baskets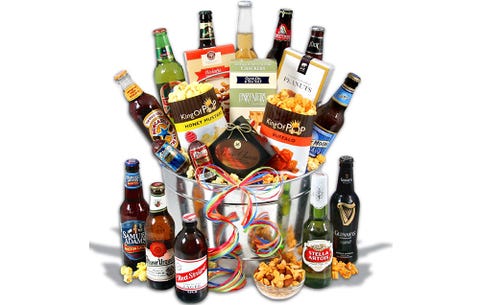 gourmet gift baskets
If the beer lover you're shopping for is your boss, and you've got a little money to spend, consider a Beer Gift Basket. Available in seasonal packages and hobby-focused varieties, like the Beer-B-Q Bucket, a basket full of beer is a surefire way to say "we're not that close, but I want you to have a good time."
Buy It Here
3D-Printed Toilet Paper and Beer Holder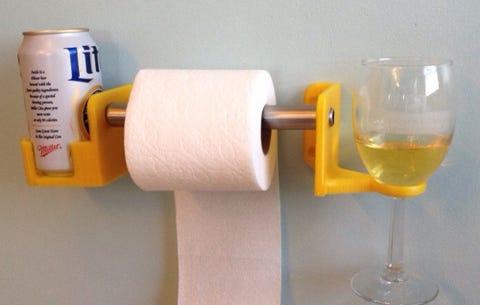 etsy
We all love a good shower beer, but for the stressed out beer drinker in your life, why not indulge in a little low-brow fun? This toilet paper dispenser doubles as a beer holder (and triples as a wine glass holder…). It's the perfect way to show you care.
Buy It Here
Original Grain Brewmaster Watch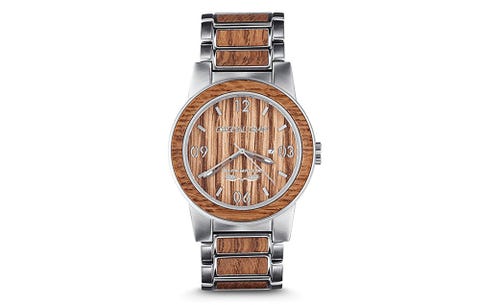 Original Grain
This astonishingly cool timepiece has it all. It's unique, stylish, and made with the same quality and care—and even some of the same materials—as his favorite barrel-aged brews. Original Grain watches use reclaimed wood from beer barrels and flame tempering to bring out the grain and finish in each oak wood dial. Brushed silver steel brings the band together and the "Brewmaster" crest reminds the brewer in your life how far he's come. The Brewmaster is available in a few models: The Barrel, 47 millimeter or 42 millimeter face size, and Brewmaster Chrono.
Buy It Here
686 Sixer Insulated Jacket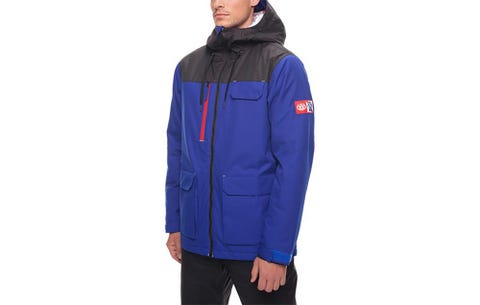 686 Sixer
Make it way easier for him to carry around a few cold ones with this 686 winter jacket. It's available in two styles (including Cobalt PBR).
Buy It Here
Life is Brewtiful T-Shirt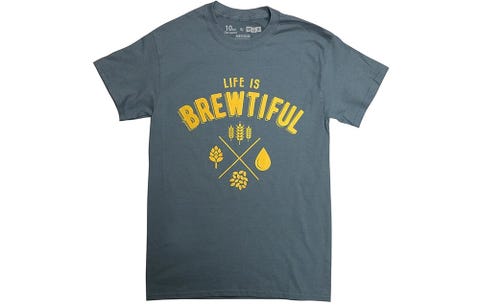 Life is Brewtiful T-Shirt
This cool tee is your best bet if you know he wears brewing shirts but you're afraid of buying one he already has (or worse, one that sold out and will earn him ridicule as he waits in the next can release line). Play it safe with this cheerfully inoffensive and optimistic "Life is Brewtiful" T-shirt. This screen-printed tee comes in heather gray with yellow print, featuring the trendy cross design showing up on a lot of beer shirts lately.
Buy It Here
Yeti Rambler Vacuum Insulated Stainless Steel Colster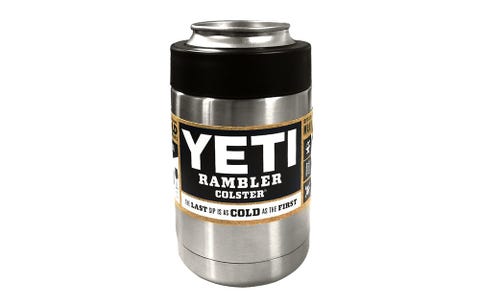 Yeti
Because he already has a couple Yeti coolers, he'll be psyched when he realizes you got him the Colster.
Buy It Here
Beer Caddy with Bottle Opener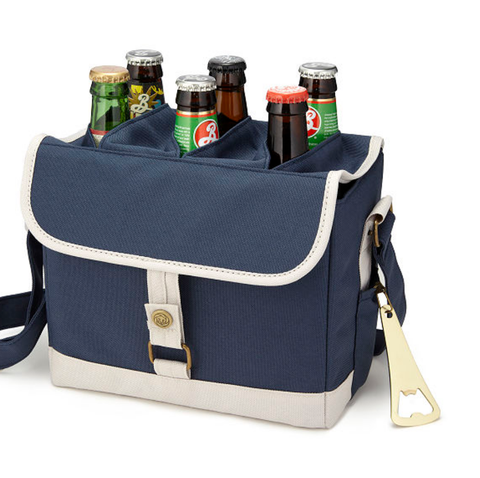 Uncommon Goods
If you're fortunate enough to live in a state where you can BYO to restaurants, make sure to at least take advantage of it in a classy way. This suave carrying case totes a sixer and has a built-in opener on a retractable leash.
Buy It Here
The Complete Beer Course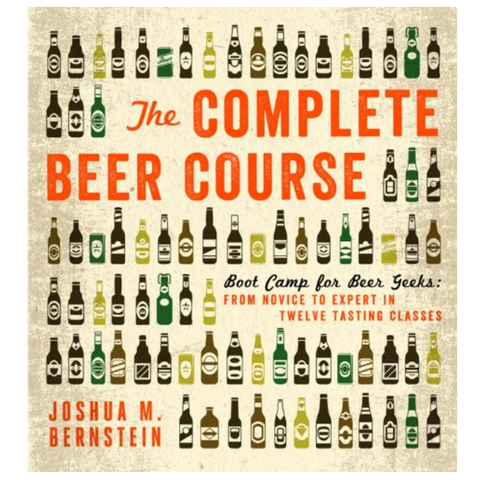 Amazon
Beer writer Joshua M. Bernstein puts together a tasting course in this beautiful book. It's for the beer lover just starting to expand their tastes as well as the old pro who is looking for something new.
Buy It Here
Belcampo Organic Beef Snack Sticks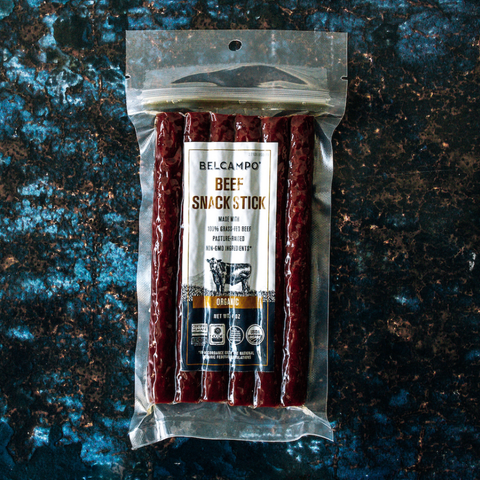 Belcampo
Because a man cannot survive on beer alone. These super-savory, far-superior-to-a-Slim-Jim sticks are the perfect partner for beer drinking. Sip. Snack. Repeat.
Buy It Here
Beer Keg Urinal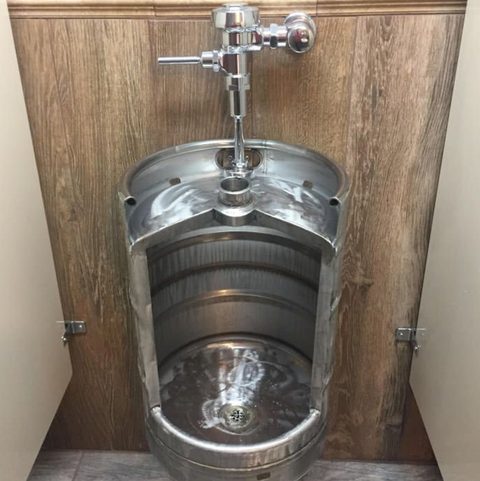 Etsy
For the beer lover who has absolutely everything.
Buy It Here
Source: Read Full Article