6 Easy Keto Chicken Recipes With a Ton of Flavor

Chicken is an easy weeknight staple—it's a great source of leaner protein, and it's super versatile. However, it usually tastes best when it has some sort of interesting texture, is cooked in a marinade or sauce, and comes with a side of potatoes.
Unfortunately for those on the ketogenic diet, chicken recipes can be pretty bland. Lots of delicious chicken dishes have carbs and sugars added to them, which make them off-limits…and that means you're stuck to eating plain grilled chicken breast. Womp. Luckily, you don't need to eat a sad chicken dinner when there are keto-friendly options that taste indulgent but still keep you in ketosis. Cook one of these keto chicken recipes—you won't be disappointed.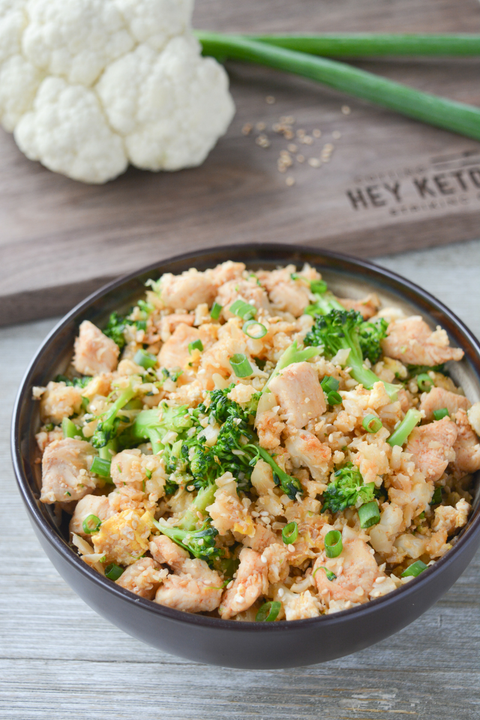 Hey Keto Mama
Keto Chicken Fried Cauliflower Rice
If you're keto, you've probably said goodbye to your favorite Chinese takeout. Yet the next time you're craving it, don't fight back those urges and whip this up, instead. This keto chicken friend cauliflower rice by Hey Keto Mama is low in carbs, with only 7.65 grams of net carbs per serving. You can definitely treat this as a meal, as it's super filling thanks to the high protein and fat count.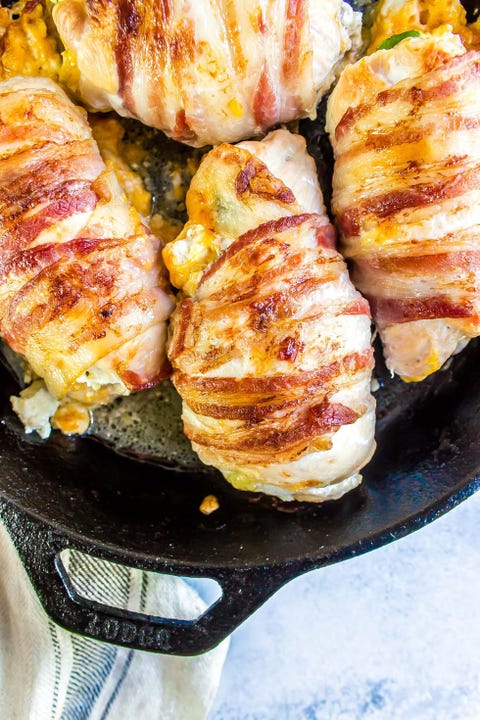 Cast Iron Keto
Jalapeño Popper Chicken
This jalapeño popper chicken by Cast Iron Keto is anything but boring. With only 1.5 net carbs and 29.4 grams of fat, it's the perfect keto chicken dish that feels super decadent and rich without overdoing your carb intake for the day. You only need five ingredients, and it's ready in 40 minutes. Serve these babies up for your next gaming party or tailgate.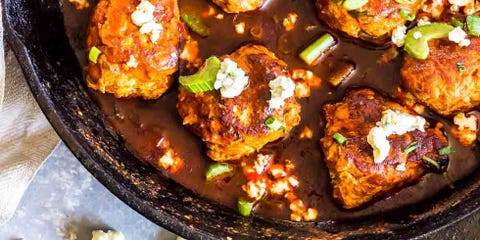 Cast Iron Keto
Keto Buffalo Chicken Meatballs
Another by Cast Iron Keto, these beautiful keto buffalo chicken meatballs are perfect for holiday appetizers, in a lettuce cup, or for Italian night over a bowl of low-carb noodles. With only 1.5 net grams of carbs and 14.1 grams of fat, it's filling and totally compliant for your keto diet. Dunk in blue cheese dressing and hot sauce for added flavor.
BUY IT HERE: Calphalon Cast-Iron Skillet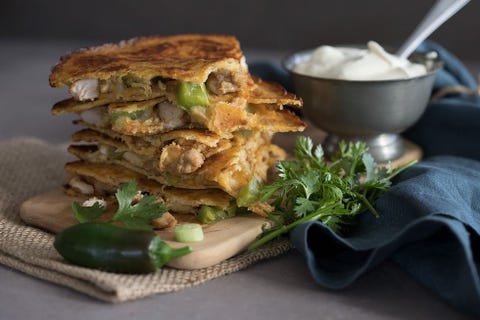 All Day I Dream About Food
Keto Chicken Quesadillas
It's hard to enjoy Mexican food when you're keto. Just think of those tortillas, chips, and flavored margaritas! Yet this keto chicken quesadilla recipe by All Day I Dream About Food is rich in flavor without compromising carb levels. With only 2.8 grams of net carbs per serving and 25.6 grams of fat, it lets you indulge in your Mexican craving and fulfill your fat requirements. Fill with cheddar cheese, chicken, and your favorite veggies and seasonings—the possibilities are endless.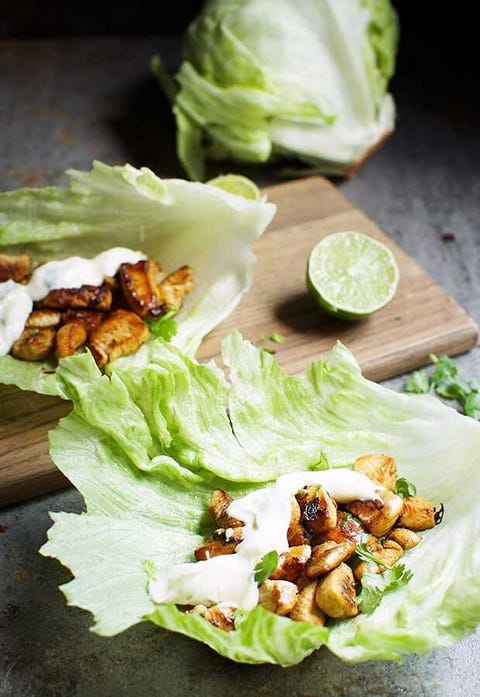 Ruled.me
Chili Lime Chicken Lettuce Wraps
These chicken lettuce wraps by Ruled.me make for the perfect low-carb, low-calorie lunch that packs a ton of satiating protein and fat. With only 1.9 net grams of carbs and 27.2 grams of fat per lettuce cup, it keeps you in that ketone-burning zone and still tides you over until your next meal. Play around with spices, like garlic, cilantro, and chili powder for a flavor boost.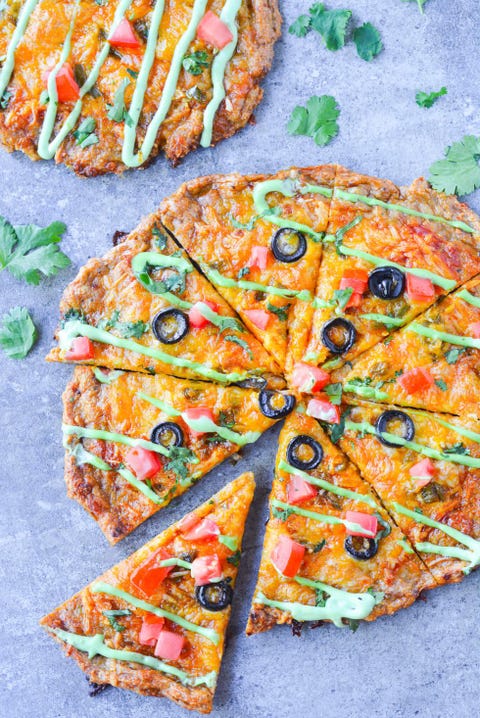 I Breathe I'm Hungry
Chicken Crust Taco Pizza
Pizza and tacos are a no-go on the keto diet, unfortunately, but here's an opportunity to enjoy a keto-friendly combination pie. Swap carbs for chicken in this chicken taco pizza by I Breathe I'm Hungry when creating your crust—all you need is ground chicken, your favorite seasonings, and toppings. Use an avocado, sour cream drizzle to bring fats up to 18 grams a serving. The best part? You only take in 2 grams of net carbs a slice.
BUY IT HERE: Pizza Stone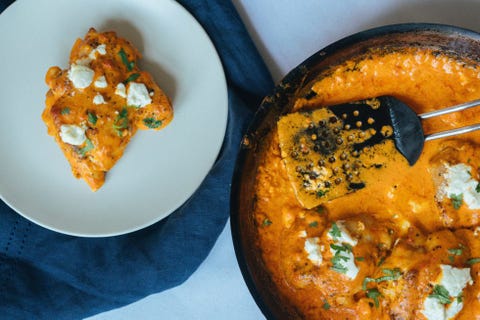 Keto Connect
Keto Chicken Thighs
These tasty keto chicken thighs by Keto Connect are smothered in a red pepper sauce to bring the heat and flavor, and they use goat cheese, coconut oil, and heavy cream to provide 34 grams of fat to keep you full. Yet they're still low in carbs, with only 2 grams a serving. Plus, they only take 25 minutes to make, so it's quick and easy after a long day at work.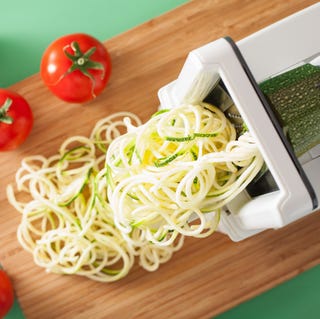 Source: Read Full Article