Style Isn't the Only Way Melania Trump Is Completely Different From Donald
Love them or hate them, the first family is firmly ensconced in the White House. Since Donald Trump took office, there have been many shocking occurrences. But one thing Trump has not upset so far is his marriage to Melania, which has lasted more than a decade. The Trumps lend credence to the saying, "opposites attract" — and you'd have to search far and wide to find two people who are more different.
Explore the ways in which fashion maven Melania Trump is completely different from her husband.
1. One loves the spotlight, and the other definitely doesn't
Melania never wanted the national spotlight. | Mark Wilson/Getty Images
There is no shortage of Donald Trump moments in the spotlight. Melania Trump, on the other hand, rarely speaks when she's in public and gives interviews only occasionally. Clearly, the two feel very differently about being public figures.
Next: Loud versus quiet
2. Donald is inflammatory, while Melania is not
Trump's remarks have frequently gotten him into trouble with the public. | Mark Wilson/Getty Images
Donald Trump is famous for his incendiary, provocative rants. Hardly a day goes by that he doesn't say — or tweet — something inflammatory. Melania Trump, however, is quiet. She goes about her business in a private way and has taken trips on her own to address the issues she champions, namely bullying and the opioid drug addiction crisis.
Next: Different eating styles
3. Their eating styles are way different
Great afternoon in Ohio & a great evening in Pennsylvania – departing now. See you tomorrow Virginia! #MakeAmericaGreatAgain
Posted by Donald J. Trump on Monday, August 1, 2016
Donald Trump lives for fast food, according to Business Insider. In fact, he starred in a Pizza Hut commercial in 1995 and a McDonald's commercial in 2002. He even tweeted a pic of himself eating a bucket of KFC chicken while he was campaigning.
First lady Melania Trump, according to Life & Style, is a super-healthy eater who tries to consume at least seven pieces of fruit a day, drinks lots of water and eschews fatty, rich foods. How in the world do they decide on where to go for dinner?
Next: Fashion faux pas
4. They have polar opposite senses of style
Melania is known for her expensive taste. | Giovanni Isolino/AFP/Getty Images
Although Donald Trump might hold his tie in place with tape and don some questionable outfits, Melania is very particular about her clothes. The Slovenia-born former model's closet is brimming with designer fashion. In fact, she has been criticized for spending so much on her clothes (cue the $53,130 Dolce & Gabbana outfit she wore to the G-7 summit, according to Business Insider). But no one can say she's not glamorous.
Next: A May-December romance
5. Their age difference is notable
There's a big age difference between the two. | Olivier Douliery-Pool/Getty Images
Donald Trump is 71. Melania Trump is 47. Do the math — 24 years is a sizable difference. But despite the big gap in their ages, they've been married for over a decade. Perhaps Mark Twain was right when he said, "Age is an issue of mind over matter. If you don't mind, it doesn't matter."
Next: Language barriers?
6. One speaks many languages, and the other only English
Melania knows several languages. | Andrew Harrer-Pool/Getty Images
Melania is certainly not an experienced public servant. That said, she surely could help Donald when it comes to diplomatic meetings. She speaks five languages: Slovenian, English, Serbian, German, and French, according to CBS News. Donald Trump speaks only one: English.
Next: To tweet or not to tweet
7. Melania rarely tweets, but Donald is the king of Twitter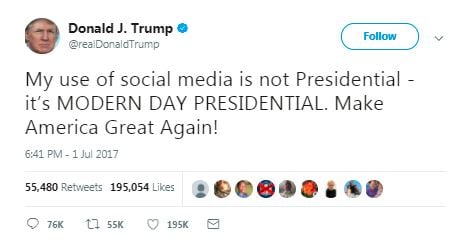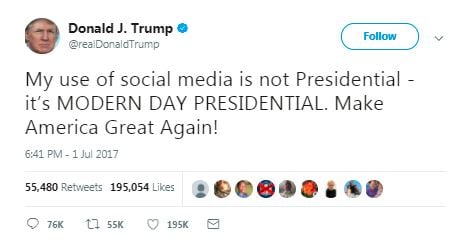 He calls his Twitter usage 'modern day presidential.' | Donald Trump via Twitter
Donald Trump tweets just about any time he can, unlike the first lady. According to CBS News, she tweeted "Happy Fourth of July" in the summer of 2015 and "Happy Easter" on March 27, 2016. In addition, she tweeted on Election Day to urge voters to get out and vote for Donald. The president, however, has a personal and an official Twitter account, according to CNN, which he uses quite frequently.
Read more: The Dark Secrets Behind Donald and Melania Trump's Marriage, Revealed
Check out The Cheat Sheet on Facebook!
Source: Read Full Article