The 15 Best Chain Restaurants to Look for at Airports, Revealed
If you've ever had to seek out a meal at an unfamiliar airport, then you know just how tough it can be to find good food as you wait for your flight. That could be why Time recommends embracing chain restaurants when you fly. It may not feel particularly adventurous. But the same kind of chain restaurants that you'd see in a strip mall at home will "deliver dependable favorites in airports that are basically exactly what you would get in their normal locations." So which chain restaurants should you look for before your next flight?
Below, check out the best chain restaurants you can find at airports across the United States, and you won't ever have to eat gross airport food again.
1. Brioche Dorée
Brioche Doree | Frank Perry /AFP/Getty Images
If you find yourself at one of the many North American airports where Brioche Dorée has opened a café — ranging from Atlanta to Chicago O'Hare, Orlando to San Jose — you owe it to yourself to stop in. The Travel Channel recommends this Parisian café chain as one of the best airport restaurants in the country.  The publication reports that Brioche Dorée is "as quick as fast food, but [with] the quality of a restaurant."
Next: Visit a European coffeehouse the next time you fly. 
2. Café Intermezzo
Cafe Intermezzo | Cafeintermezzo.com
Café Intermezzo isn't ubiquitous. But it has enough locations — in Texas, Tennessee, and Georgia — that it's worth mentioning. In fact, the Travel Channel considers it one of the best airport restaurants of all. The publication characterizes the chain as "an oasis in the midst of fast-food junk." You can order soups, salads, sandwiches, pasta, and even desserts. The atmosphere makes it feel like a real café, and you can take your food to go if you have a short layover.
Next: If you want cocktails and tapas, find one of these restaurants. 
3. Cat Cora's Kitchen
Cat Cora's Kitchen | catcora.com
Cocktail and tapas lounge
If you want to get a delicious menu and check out a celebrity chef restaurant, all as you wile away your layover, Cat Cora's Kitchen is for you! You can find locations of this cocktail and tapas lounge at airports in San Francisco, Houston, Atlanta, and Salt Lake City. DigitalTrends recommends this chain of restaurants, and fans love the locally-sourced ingredients, unique flavor combinations, and fresh seafood.
Next: You can't go wrong with this fast-food favorite. 
4. Chick-fil-A
Chick-fil-A | Andrew Renneisen/Getty Images
The Travel Channel counts Chick-fil-A among the best airport restaurants to look out for if you need a meal. And you can almost always find one of Chick-fil-A's many locations. The chain has a "limited menu but still the best chicken in the world," according to The Travel Channel. "Even with long lines and weary travelers, this place gets it done," the publication notes. "No lemonade, but can't pass up the sweet tea. Looking for a healthier option? Go with the chargrilled chicken garden salad."
Next: This fast-casual restaurant is a reliable choice. 
5. Chili's
O'Hare International Airport | Tupungato/iStock/Getty Images | Tupungato/iStock/Getty Images
Tex-Mex casual dining restaurant
It isn't fancy, but Time mentions Chili's as one of the chain restaurants that you might want to check out the next time you need a meal at the airport. Beloved chains like this one "make agreements to [ensure] certain standards in ingredients and preparation," even when the staff is whipping up your meal at one of the chain's airport locations, Time reports. If you like Chili's Tex-Mex cuisine, you can count on your favorites tasting the same either at your home airport or at one across the country.
Next: Head to one of these restaurants for a burger or a hot dog. 
6. Five Guys
Five Guys restaurant | Paul J. Richards/AFP/Getty Images
Fast-casual hamburgers and hot dogs
Digital Trends counts Five Guys as one of the best restaurants you can choose the next time you fly. The Travel Channel also recommends it, reporting that "Everyone has their favorite burger place, and this one steals the hearts of East Coasters. The Idaho potatoes can't be beat (hint: get them Cajun style)." One of the many Five Guys locations is the place to go if you want a quick burger and fries, perfect whether you have a short layover or want to get on your way to explore your destination.
Next: Want a sandwich? Check out one of these restaurants. 
7. Jersey Mike's
Jersey Mike's location | Jerseymikes.com
DigitalTrends reports that Jersey Mike's is one of the most popular restaurants at McCarran International Airport in Las Vegas — which means that this national sandwich chain must be doing something right. If you stop in at one of the chain's many locations, can expect to find everything you'd order at any other sub shop. But you can also order your sandwich made on gluten-free bread — a rarity at most airport sub shops.
Next: This is another restaurant that sandwich fans will want to check out. 
8. Lenny's Sub Shop
Lenny's Subs | Lenny's Subs via Facebook
Though it's not as ubiquitous as some other sandwich chains, Lenny's Sub Shop comes highly recommended by The Travel Channel. With locations in most southern states, this chain serves up great subs. As The Travel Channel puts it, "Only the freshest, best tasting ingredients go into the made-to-order sandwiches here and at a reasonable price. No wonder there is a usually a long line, but don't let that discourage you as they know how to keep it moving."
Next: This chain offers farm-to-table meals. 
9. Modern Market
Modern Market | modernmarket.com
If you're lucky enough to find yourself at an airport with a Modern Market location, you should check out this delicious chain. DigitalTrends recommends it as one of the best restaurants at the Denver airport, where you can stop in for "fresh and healthy farm-to-table fare." We all know that healthy food is difficult to find both at the airport and on the plane. So Modern Market will appeal to anyone looking for something nutritionally balanced and delicious.
Next: You'll love these restaurants if you want good seafood. 
10. Pappadeaux Seafood Kitchen
Pappadeaux Seafood Kitchen | Pappadeaux Seafood Kitchen via Facebook
Digital Trends points to Pappadeaux Seafood Kitchen as one of the best chain restaurants to frequent at the Dallas-Fort Worth Airport (and at the other airports across the country where you can find one of the chain's locations). The Travel Channel also recommends this chain for its Cajun and Creole dishes, plus its healthy options, like grilled seafood and vegetables. You can also easily find a gluten-free meal at this chain. And if you feel like braving a buffet, the chain has that, too.
Next: These restaurants offer another great option if you want a sandwich. 
11. Potbelly Sandwich Shop
A Potbelly Sandwich Shop | Andrew Burton/Getty Images
Sandwiches are tried-and-true airport food. And you can't go wrong with a sandwich from one of the many locations of Potbelly Sandwich Shop that you'll find across the country. The Travel Channel advises, "Don't let the long line discourage you, this place moves fast thanks to great service — and is well worth the 5-minute wait." The chain serves sandwiches, salads, and soups. And if you want proof that it's one of the best restaurants at the airport, note that airline employees are known to eat there, too.
12. Shake Shack
Shake Shack | Mizoula/iStock/Getty Images
DigitalTrends nominates Shake Shack as one of the best restaurants at John F. Kennedy International Airport in New York. And we'd recommend checking it out whether you're at JFK or at one of the other airports where the burger chain has an outpost. As Digital Trends puts it, "The burger joint has developed a cult following worldwide," and for good reason. Burgers, fries, shakes — everything on the menu has avid fans.
Next: Head to this restaurant for a wide-ranging but healthy menu. 
13. UFood Grill
UFood Grill | UFood Grill via Instagram
Healthy meals that are baked, steamed, or grilled
You won't find UFood Grill at as many airports as some other chain restaurants. But if you do end up at one of the airports with a location — including in Boston, Dallas, or Salt Lake City — you might want to check it out. The Travel Channel reports that menu options as wide-ranging as tofu, bison burgers, baked fries, steamed broccoli, breakfast burritos, and acai smoothies all taste delicious at this health-focused chain.
Next: Make a beeline here if you want a glass of wine. 
14. Vino Volo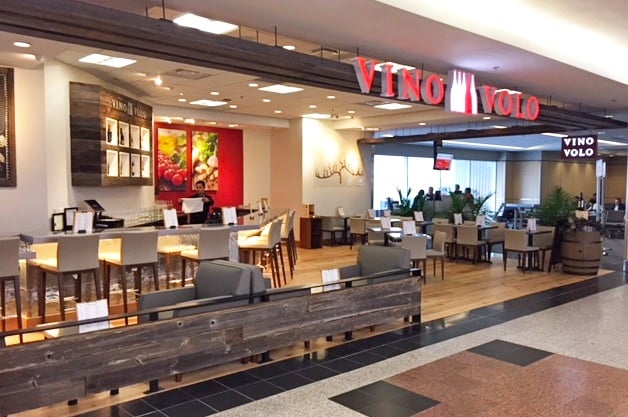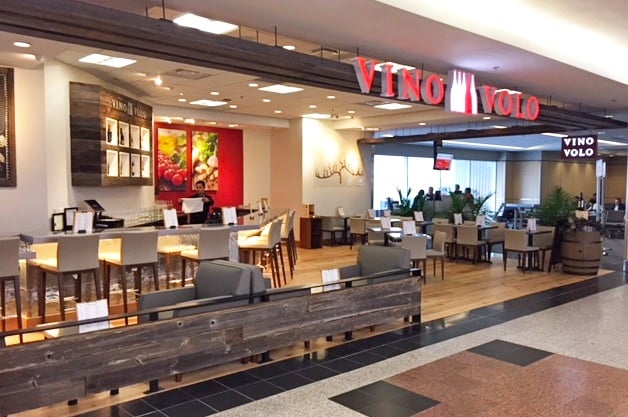 Vino Volo | Vinovolo.com
If you want a glass of wine before your next flight, Vino Volo is the place to be. With locations at numerous airports across North America, chances are good that you can find an outpost before you board your next flight. The Travel Channel reports that the chain offers a "great selection of wine at reasonable prices." The publication also characterizes Vino Volo as a "little slice of paradise," and the perfect place "to relax, munch on some food, and have a glass of good wine."
Next: Choose this celebrity chef restaurant for seriously delicious food. 
15. Wolfgang Puck restaurants
A Wolfgang Puck restaurant |
Fast-casual celebrity chef restaurant
Chicago Magazine recommends a local outpost of Wolfgang Puck Express as one of the restaurants where you can "eat like you're not in the airport." With locations at airports across the United States, Wolfgang Puck's restaurants are an easy addition to add to your bucket list. Chicago Magazine particularly recommends the mushroom pizza, the turkey club sandwich, or the signature Chinois Salad.
Read more: These 7 Airports Have the Happiest Travelers in America
Check out The Cheat Sheet on Facebook!
Source: Read Full Article