Green Spaces a Mental Balm for City Dwellers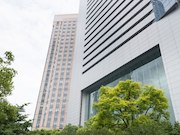 FRIDAY, July 20, 2018 — A splash of green in an urban landscape can lift the spirits of city residents, a new study suggests.
Researchers assessed the mental health of people who lived within a quarter-mile of vacant lots in Philadelphia before and after those lots were converted into green spaces, as well as people who lived near vacant lots that were not greened.
People who lived near the greened lots had a 42 percent decrease in feelings of depression and a nearly 63 percent decrease in self-reported poor mental health, compared with those who lived near non-greened lots, the findings showed.
"Dilapidated and vacant spaces are factors that put residents at an increased risk of depression and stress, and may explain why socioeconomic disparities in mental illness persist," said lead study author Dr. Eugenia South. She's a member of the University of Pennsylvania's Center for Emergency Care and Policy Research.
The researchers said their findings could be important for U.S. cities, where 15 percent of land is vacant and often filled with debris, trash and weeds.
"What these new data show us is that making structural changes, like greening lots, has a positive impact on the health of those living in these neighborhoods. And that it can be achieved in a cost-effective and scalable way — not only in Philadelphia, but in other cities with the same harmful environmental surroundings," South said in a university news release.
The findings were published online July 20 in the journal JAMA Network Open.
According to study senior author Charles Branas, "Greening vacant land is a highly inexpensive and scalable way to improve cities and enhance people's health while encouraging them to remain in their home neighborhoods." Branas is chair of epidemiology at Columbia University in New York City and an adjunct professor in the department of biostatistics and epidemiology at UPenn.
"Revitalizing the places where people live, work and play may have broad, population-level impact on mental health outcomes," he added.
There's growing evidence that revitalizing vacant lots in cities improves residents' health and safety by reducing crime, violence and stress levels.
For example, another recent study by the same team of researchers found that greening vacant lots led to a 29 percent decline in gun violence in surrounding areas.
More information
The National Recreation and Park Association has more on the health benefits of green spaces.
Posted: July 2018
Source: Read Full Article