Intensive Blood Pressure Control May Help Preserve Brain Health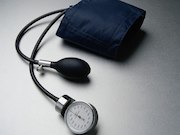 WEDNESDAY, July 25, 2018 — Strict blood pressure control not only benefits your heart, it might also help save your brain, preliminary research suggests.
Older adults whose systolic blood pressure (the top number in a reading) was kept at 120 mm Hg or less saw a 19 percent decrease in their risk for mental difficulties known as mild cognitive impairment, according to trial results presented Wednesday.
Intensive blood pressure control also lowered the risk for mild mental impairment and dementia combined by 15 percent, said lead researcher Dr. Jeff Williamson, of Wake Forest School of Medicine in Winston-Salem, N.C.
Patients with lower blood pressure also had fewer brain lesions develop, the researchers reported.
Although these findings are preliminary, they are the strongest evidence so far that aggressively treating high blood pressure reduces the risk of mild cognitive impairment and dementia, said Williamson, a professor of gerontology and geriatric medicine.
He couldn't say for sure how blood pressure and dementia risk are intertwined.
But "one leading hypothesis is that higher pressure affects the lining of very thin arteries in the brain," Williamson said. "Over time, that can cause damage and inflammation."
Everyone with dementia goes through a stage of mild cognitive impairment, he said.
"It's not an inconsequential stage," Williamson noted. "People who have this kind of memory impairment have trouble doing things like managing their finances or following a recipe or playing a game."
Keith Fargo, director of scientific programs and outreach at the Alzheimer's Association, said the findings suggest it's best to get blood pressure under control sooner rather than later.
"If you want to have a healthy old age, in terms of your cognition, you don't want to wait to start thinking about your blood pressure," he said.
The study was an offshoot of the well-known SPRINT trial.
SPRINT (Systolic Blood Pressure Intervention Trial) found that keeping blood pressure tightly controlled could prevent heart attacks and strokes in older adults. Those findings were a key factor behind revised blood pressure guidelines that reduced the target for normal systolic blood pressure from 140 mm Hg to 120 mm Hg.
In the SPRINT MIND trial, researchers assessed the mental state of more than 9,300 people with high blood pressure, average age 68. The participants were treated to maintain a systolic blood pressure of less than 140 mm Hg or less than 120 mm Hg. The lower reading was considered intensive blood pressure control.
Recruitment for the trial began in 2010, and cognitive assessment continued until June 2018.
Those receiving intensive blood pressure control took at least one extra blood pressure drug, Williamson said. All commonly used blood pressure medications were included, and the rate of side effects was similar in both treatment groups.
In a related project, Dr. Ilya Nasrallah, an assistant professor of radiology at the University of Pennsylvania, and colleagues performed MRIs on more than 670 participants.
Patients whose blood pressure was intensively controlled had less damage to their brain's white matter than those with uncontrolled blood pressure, the researchers reported. This kind of damage to the brain is a sign of impending dementia or Alzheimer's disease.
"There is a beneficial effect to the structure of the brain in having intensive blood pressure therapy," Nasrallah said.
But lower blood pressure isn't a one-size-fits-all remedy for brain aging, cautioned Dr. Sam Gandy, director of the Mount Sinai Center for Cognitive Health in New York City.
Gandy said recent research has indicated that reducing blood pressure too fast might damage the brain and bring on cognitive impairment.
"The timing and a patient's age and the rate of blood pressure lowering must be kept in mind so that one does not overdo the blood pressure lowering and do harm," Gandy said.
Results from the SPRINT MIND trial were scheduled for presentation Wednesday at the Alzheimer's Association meeting, in Chicago. Research presented at meetings should be considered preliminary until published in a peer-reviewed medical journal.
More information
For more on dementia, visit the Alzheimer's Association.
Posted: July 2018
Source: Read Full Article