Tool Helps Health System Cut Risky Scripts for Older Adults
A program to change prescribing patterns yielded positive results for a large health system in Rhode Island, reducing the number of potentially inappropriate medication orders and dangerous outcomes for older patients.
In the largest implementation yet of the tool, designed by the US Department of Veterans Affairs to decrease the use of potentially inappropriate medications (PIMs), Lifespan, a nonprofit system whose partners include Brown University, reported a significant drop in the number of such prescriptions to older adults on discharge from the emergency department (ED).
The number of PIMs among monthly prescriptions fell by roughly 26% at Lifespan's three adult acute-care EDs after the system adopted EQUiPPED ― Enhancing Quality of Prescribing Practices for Older Adults Discharged from the Emergency Department. The VA deployed a version of the tool in 2013 to address the lack of training most emergency clinicians receive in the management of geriatric medications.
The model "should be implemented in other states and, with greater replication, could shape national policy regarding quality of care for older adults," according to the researchers, who reported the results May 12 at the American Geriatrics Society (AGS) 2022 Annual Scientific Meeting, in Orlando, Florida.
Older adults are three times as likely as younger patients to wind up in an ED because of medication-related harms. This is in part due to the greater number of prescriptions US adults older than 65 years take daily.
A Key Quality Measure
Although the Centers for Medicare & Medicaid Services and other groups have deemed minimizing PIMs an important quality measure, most EDs lack an expert in geriatric prescribing, Elizabeth Goldberg, MD, an associate professor of emergency medicine at Brown University, Providence, told Medscape Medical News.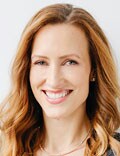 Dr Elizabeth Goldberg
With EQUiPPED, clinicians receive access to geriatric medication order sets embedded in electronic health records, individualized benchmark reports, and education about medication safety in older adults. PIMs are defined by the American Geriatrics Society Beers Criteria and include drugs such as proton-pump inhibitors and antipsychotics.
Lifespan's program involved 362 clinicians who treat about 230,000 patients annually — 40,000 of them aged 65 and older. Goldberg said implementing the program in such a large population could "really move the needle for older adults" by reducing falls, improving cognitive function, and preventing harm from the use of medication.
She and fellow researchers examined ED prescribing 13 months before and 16 months after they had implemented EQUiPPED, in August and September of 2019. Of clinicians who participated, 48% were attending physicians, 37% were residents, and 34% were advanced practice providers.
PIM prescribing dropped from 8.93% prior to implementation (95% CI: 8.5% –9.36%) to 6.59% after (95% CI: 6.2% – 6.98%; P < .001). Before implementation, 1495 of 16,681 prescribed medications were considered inappropriate, compared to 1044 of 15,818 medications after, according to the researchers. The biggest declines in prescribing involved antihistamines, muscle relaxants, and benzodiazepines.
Despite the improvements, the system did not meet a goal of reducing PIMs to less than 5%. Goldberg said educating the large number of clinicians, some of whom rotated in and out of the ED, proved particularly challenging. The COVID-19 pandemic also potentially diverted attention from the quality improvement project, she said.
In addition to its size, the project was notable because it was supported by Blue Cross & Blue Shield of Rhode Island. Goldberg said obtaining private funding proved to be a quicker and less competitive process than obtaining a government grant. Other institutions interested in running similar studies may need to find insurers that are in the Medicare Advantage market or that have a significant number of younger enrollees with chronic conditions such as kidney disease, who may benefit from more careful prescribing practices, she said.
The new study builds on previous research, such as a 2017 study that showed that EQUiPPED reduced PIM prescribing at four VA hospitals. Findings from a more recent rollout at three academic health systems suggested that the model might also be effective in targeting the overuse of specific drugs in facilities in which PIM prescribing is already low.
A researcher in those earlier studies, Susan Nicole Hastings, MD, a geriatric medicine specialist at Duke University in Durham, North Carolina, and the Durham VA Health Care System, told Medscape Medical News that Lifespan's experience supports the idea that "with the right attention to balancing fidelity and tailoring for the new setting, there is tremendous potential for moving successful programs from the VA to other health systems."
Ann E. Vandenberg, PhD, MPH, a gerontologist at Emory University, Atlanta, said the fragmented nature of the American healthcare system makes it difficult to disseminate EQUiPPED widely, but interoperability applications that pull data from different electronic health records could help hospital systems to adopt the program without undergoing site-specific customization.
Hastings and Vandenberg have received research funding to study EQUiPPED from the Agency for Healthcare Research and Quality. Hastings also received research funding from the VA.
American Geriatrics Society (AGS) 2022 Annual Scientific Meeting: Presented May 12, 2022.
Mary Chris Jaklevic is a healthcare journalist in the Midwest.
For more news, follow Medscape on Facebook, Twitter, Instagram, and YouTube.
Source: Read Full Article