Hershey's And Reese's Whipped Cream Are FINALLY Here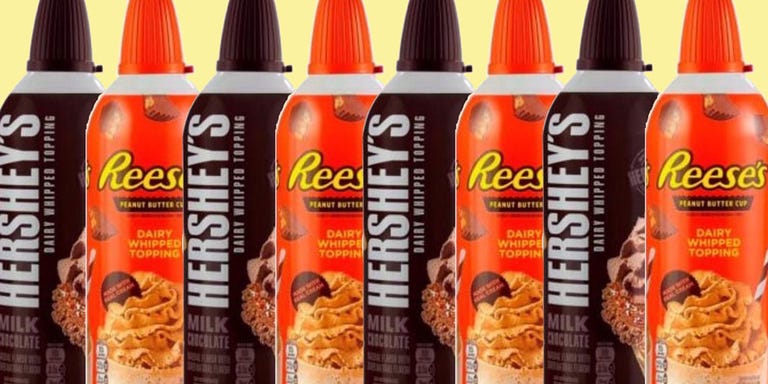 For sugar lovers, whipped cream is a VERY important topping. It turns snacks that already taste amazing — ice cream, pie, pancakes — into insane masterpieces. If you agree, you're going to want to sit down for this: Hershey's and Reese's whipped cream have OFFICIALLY HIT STORES.
Last month, Instagrammer Markie Devo let the world know that these sweet treats were coming to all major retailers the 3rd week of July. Now the waiting and dreaming is over as these fame-changing whipits have come to life and have, indeed, been spotted at a Hy-vee Supermarket. We. Are. Freaking. Out.
Next stop: My mouth. ? Found the new Reese's and Hershey's whipped creams at Hy-Vee!
A post shared by @ candyhunting on
Imagine an ice cream sundae with your usual suspects i.e., massive scoops of ice cream, nuts, cookie pieces, fruit, maybe a nice maraschino cherry, but instead of adding a squeeze of regular whip, you can add milk chocolate Hershey or Reese's in creamy form. Yes plz.
Many took to the comment section of the Markie Devo's post to share their freak out publicly. One fan of the new topping suggested skipping the sundae all together and eating them both straight to the face, and we're taking notes.
I heard the snack internet world needed saving, so I have come to the rescue??.. The wonderful world of whipits is about to be turned upside down!! Hershey's is releasing a milk chocolate and Reese's whipped cream the 3rd week of July and will be available at all major retailers. These have sexy time written all over them?.. Who is ready for these?? Comment?? #hersheys #reeses #newfood #junkfood #sexytime #chocolate #foodie #foodporn #foodreview #candy #snacks #nyeats #foodofny #nyc #oreo #oreos #noms #yum #peanutbutter #macros #diet #cheatmeal #cheatsnack #crossfit #foodgasm #f52grams #iseesieats #itsgotsexytimewrittenallover
A post shared by Markie_devo (@markie_devo) on
Though they've only been spotted at Hy-Vees in the midwest to date, Spoon Universityreports they're expected to be rolled out most major retailers soon. The only thing left to do now is wait patiently with a spoon in hand.
From: Delish
Source: Read Full Article