These Are the Healthiest Restaurant Chains You Should Eat At
If you've ever scanned a menu wondering which appetizers and main dishes were the healthiest, you're not alone. Eating out and trying to eat healthy don't always go together. Knowing which restaurants have the healthiest options is a good place to start, though. You can look through a menu ahead of time to figure out what you want before you get there. To point you in the right direction, we've put together a list of the healthiest restaurant chains great for a quick lunch or dinner, and a healthy menu item you can order from each one.
1. Panera Bread
It's hard to make a bad choice at Panera. | Getty Images/Justin Sullivan
Panera's soup, salad, sandwich, and bakery selections are just the light breakfast, lunch, or dinner you're looking for. They make their food with the freshest, most nutritious ingredients possible — and they're very open about how they make this a priority. They also offer healthy menu options that are low in sodium and made without gluten.
Healthiest salad: Strawberry Poppyseed Salad with Chicken
While not the lowest in calories or sodium of all Panera's salads (but still lower than most), the full version of this dish has 6 grams of fiber and 25 grams of protein. Not only does it include fresh fruit, but it's also seasoned with herbs and spices to boost its flavor without adding calories or salt.
2. Chick-fil-A
If you want healthy (and delicious) chicken, start here. | Getty Images/Alex Wong
Notorious for their variety of chicken-based meals, Chick-fil-A puts the health and happiness of their customers first. You can count on every menu item providing the best nutrition possible. They're also in the process of removing antibiotics from the foods they serve, and follow specific Animal Wellbeing Standards to ensure the best quality chicken possible.
Healthiest chicken sandwich: Grilled Chicken Sandwich
When you have a choice between grilled and fried chicken, grilled always wins the healthy vote. A lightly seasoned chicken breast, lettuce, and tomato on a bun certainly isn't complicated — and it's good for you, too. You'll get 29 grams of protein and 3 grams of fiber in just 310 calories.
3. Subway
People given the choice between healthy and less healthy options often choose the healthier option. | Getty Images/Carl Court
Subway offers a variety of sandwiches and ingredient combinations to help you build the healthiest subs possible. They even have a menu made specifically for people who want to enjoy a sandwich that's made with fresher, more nutritious foods. Your freedom to choose what you want, down to the type of bread, makes lunchtime a healthy time — if you go easy on the condiments, that is.
Healthiest sub: Fit Fresh Roast Beef Sandwich
All the sandwiches on Subway's Fit Fresh Choices menu are, obviously, excellent choices. None exceed 900 milligrams of sodium or have more than 6 grams of fat. In terms of calories and protein, the roast beef sandwich is the most nutritious, with 25 grams of protein in one 320-calorie sub.
4. Noodles & Company
Grab yourself a healthy bowl of carbs. | iStock.com/genious2000de
Your options at Noodles & Company are fairly limited — you can get soup, salad, pasta, or a combination of the three. Sometimes, having fewer categories makes it easier to choose healthier options within those categories. All their entrées come in different portion sizes, so you have the luxury of picking a smaller portion to conserve calories if you want to.
Healthiest pasta: Penne Rosa
Penne noodles in a tomato cream sauce (with veggies!) won't add as many calories to your plate as you think. A small order is only 360 calories, and provides 12 grams of protein and 3 grams of fiber. You can even add grilled chicken for an extra 90 calories. As with any bowl of Noodles & Co. pasta, ordering the smallest size is your healthiest option.
5. McDonald's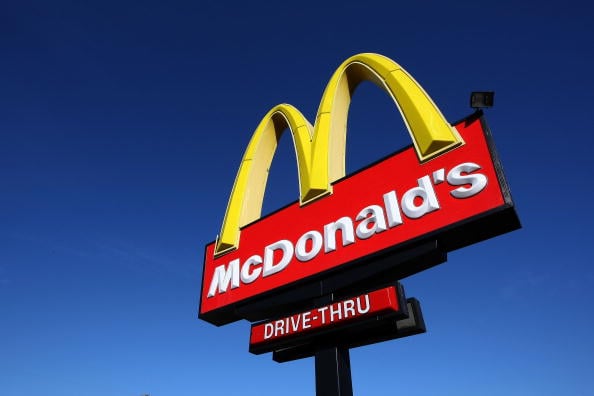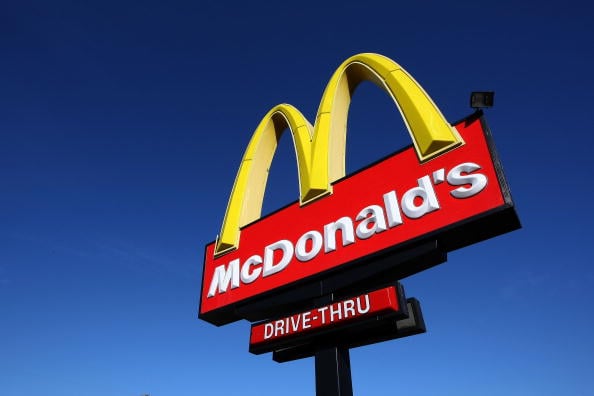 You don't have to have fries with that. | Getty Images/Justin Sullivan
Surprised to see the home of the Bic Mac on this list? McDonald's hasn't had the best reputation in the last decade or so, but they've done much more than toss the Super Size menu options. They've stopped sourcing chicken treated with antibiotics, and they've changed the side that automatically comes with a Happy Meal from fries to apple slices. These may seem like small feats, but offering healthier options is an important step to providing the quality food McDonald's promises.
Healthiest burger: Cheeseburger
Sometimes, simple really is better. Only 300 calories, a McDonald's cheeseburger with onions, pickles, and ketchup provides 15 grams of protein and 2 grams of fiber. Your side can make or break your meal, so choose something that will complement your entrée nutritionally (probably not a large order of fries).
6. Jason's Deli
This was one of the first restaurant chains to completely remove artificial trans fat. | iStock.com/ClaudioVentrella
Many chain restaurants are now scrambling to remove harmful and artificial chemicals from their food — but Jason's Deli started the process years ago. They removed artificial trans fat from their products in 2005, and artificial MSG and high-fructose corn syrup from their food in 2008. Artificial colors and flavors also aren't a part of this restaurant's ingredient list. You know what you're getting — and what you aren't — and for the most part, it's all good for you.
Healthiest sandwich: Turkey Wrap
Jason's Deli has a lot of options, but their customizable wraps are a good place to go when you don't know where to begin. A simple turkey wrap with sliced tomato and greens is only 260 calories, with 5 grams of fiber and 21 grams of protein. Adding cheese and sauces brings this sandwich's fat and sodium content way past reasonable limits, so it's probably best to leave those out.
7. Chipotle
Even guac is sort of healthy… sometimes… maybe. | Saul Loeb/AFP/Getty Images
Along with its commitment to serving you fresh and healthy food, Chipotle's menu is completely customizable. If you don't like one ingredient, it's very easy to swap it out for something you'll actually enjoy — or something healthier. This means you can make your meals as healthy as you want to — it won't cost you any extra cash.
Healthiest burrito bowl: Steak, Brown Rice, and Black Bean Burrito Bowl
A burrito bowl allows you to enjoy your favorite burrito fillings without the extra calories and carbs in a tortilla. Start with steak and add brown rice and black beans for plenty of healthy protein and carbs. Add lettuce and vegetables for some extra nutrition, and consider leaving the sour cream and guac behind.
Source: Read Full Article