CDC: More Than 400 Sickened by McDonald's Salads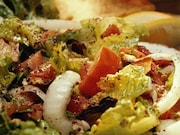 MONDAY, Aug. 13, 2018 — The number of confirmed cases of a parasite-caused illness linked to McDonald's Fresh Express Salad Mix is now 436 in 15 states, the U.S. Centers for Disease Control and Prevention says.
Most of the cases of the parasite infection called Cyclospora have been traced to McDonald's locations in the Midwest, with 219 cases in Illinois alone. Patients in Connecticut, Tennessee, and Virginia purchased salads while traveling in Illinois, according to the CDC.
The CDC reports that at least 20 people have been hospitalized. No deaths have been reported.
"Epidemiologic evidence indicates that salads purchased from McDonald's restaurants are one likely source of these infections," the CDC said. "The investigation is ongoing, and FDA is working to determine the sources of the ingredients that were in common to the salads served at McDonald's."
More Information
Posted: August 2018
Source: Read Full Article