CDC: Rates of Opioid Use Disorder Seen at Time of Delivery Up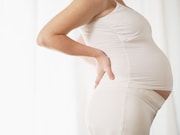 FRIDAY, Aug. 10, 2018 — Opioid use disorder rates at delivery more than quadrupled nationally from 1999 to 2014, according to research published in the Aug. 10 issue of the U.S. Centers for Disease Control and Prevention's Morbidity and Mortality Weekly Report.
Sarah C. Haight, M.P.H., from the CDC in Atlanta, and colleagues used data from the National Inpatient Sample (1999 to 2014) and the State Inpatient Databases (1999 to 2014) in order to calculate U.S. national and state-specific trends in opioid use disorder documented at delivery hospitalization.
The researchers found that, nationally, the prevalence of opioid use disorder more than quadrupled from 1999 to 2014 (from 1.5 to 6.5 per 1,000 delivery hospitalizations). All 28 states with available data showed increasing trends over time. The prevalence ranged from 0.7 in the District of Columbia to 48.6 in Vermont in 2014.
"National, state, and provider efforts are needed to prevent, monitor, and treat opioid use disorder among reproductive-aged and pregnant women," the authors write.
More Information
Posted: August 2018
Source: Read Full Article