Could More Vitamin D Help Prevent Breast Cancer?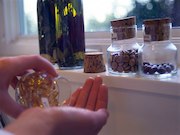 WEDNESDAY, June 27, 2018 — High levels of vitamin D may reduce a woman's risk of breast cancer, a new study suggests.
Researchers looked at more than 5,000 women, 55 and older, and found that those with vitamin D blood levels of 60 nanograms per milliliter (ng/mL) or more had an 80 percent lower risk for breast cancer than those with levels of 20 ng/mL or less.
The researchers also found that among women with vitamin D blood levels between 20 and 60 ng/mL, the higher their level, the lower their risk of breast cancer.
But the study did not prove that higher vitamin D levels prevent breast cancer, just that there was an association.
Data from clinical trials conducted at Creighton University in Omaha, Neb., and from GrassrootsHealth, a California-based nonprofit, were included in the study.
"This study provides strong support that vitamin D plays an important role in breast cancer prevention," said principal investigator Joan Lappe. She is a professor of nursing at Creighton.
"It also demonstrates that blood levels of vitamin D for breast cancer prevention need to be higher than currently recommended levels for bone health," Lappe said in a university news release.
A vitamin D blood level of 20 ng/mL or above is adequate for bone health, according to the National Academy of Sciences.
Carole Baggerly, director of GrassrootsHealth, said, "With roughly an 80 percent reduction in the incidence of breast cancer, getting a vitamin D blood level to 60 ng/mL becomes the first priority for cancer prevention."
According to Baggerly, "Nutrition and lifestyle factors are certainly important for overall health, but they can't replace the value of vitamin D level. The safety of this level has been demonstrated within this study as well as others."
The study was published online recently in the journal PLoS One.
The U.S. National Cancer Institute estimates there will be more than 266,000 new breast cancer cases among U.S. women this year and 40,900 breast cancer deaths.
More information
The American Cancer Society has more on breast cancer.
Posted: June 2018
Source: Read Full Article