Opioids Before Joint Replacement Tied to Worse Recovery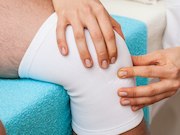 WEDNESDAY, July 25, 2018 — Prolonged use of opioid painkillers before total knee or hip replacement may greatly increase a patient's risk of repeat surgery and hospitalization, a new study says.
Opioid use should be considered yet another risk factor for surgeons and patients to consider before elective joint replacement, wrote lead researcher Dr. Hue Luu and his colleagues from the University of Chicago.
"Previous studies have highlighted factors associated with poor outcomes in total joint arthroplasty, such as diabetes, chronic kidney disease, obesity and smoking," they wrote. "Our data suggest that preoperative opioid use may be another risk factor to take into consideration."
Luu's team looked at 233,000 patients in the United States who had total knee replacement and 91,000 who had total hip replacement between 2003 and 2014. There was one year of follow-up data for all of the patients, and three years of follow-up data for about 160,000 of them.
Zeroing in on painkiller prescriptions, the researchers found that more than half the hip and knee patients had one or more opioid prescriptions filled in the six months before surgery. Rates of prolonged opioid use before surgery approached 20 percent.
Hospital readmission rates in the knee replacement group were 4.8 percent among those who did not take opioids before surgery and 6.2 percent among those who used the painkillers for more than 60 days, the study authors said.
The rates in the hip replacement group were 3.7 percent and 5.8 percent, respectively.
After one year, rates of repeat knee surgery were doubled in the long-term opioid group: just over 1 percent among those who did not take the painkillers before surgery and 2.1 percent among those who used drugs like oxycodone for more than 60 days.
In the new-hip group, the repeat-surgery rates were 0.38 percent and 1.1 percent, respectively.
After three years, the risk of hospital readmission and repeat surgery remained higher among patients who used opioids for more than a month before their surgery.
The results were published recently in the Journal of Bone & Joint Surgery.
The study can't prove a direct cause-and-effect relationship. Still, "both readmissions and additional revision surgeries add to the cost of health care and are often physically and emotionally challenging for our patients," Luu said in a journal news release.
"As physicians, we can help our patients and the health care system by reducing or eliminating preoperative opioid use in hip and knee replacement patients," he added.
More information
The U.S. National Institute of Arthritis and Musculoskeletal and Skin Diseases has more on joint replacement.
Posted: July 2018
Source: Read Full Article