PFO Closure Plus Antiplatelet Tx Advised for Cryogenic Stroke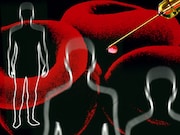 FRIDAY, July 27, 2018 — For patients younger than 60 years who have had a cryptogenic ischemic stroke thought to be secondary to patent foramen ovale (PFO), who are open to all treatment options, PFO closure plus antiplatelet therapy is recommended over antiplatelet therapy alone, according to a clinical practice guideline published online July 25 in The BMJ.
Ton Kuijpers, Ph.D., from the Dutch College of General Practitioners in Utrecht, and colleagues used a linked systematic review triggered by three large randomized trials to develop a clinical practice guideline for management of cryptogenic stroke.
The researchers found that based on data from the linked systematic review, PFO closure prevents recurrent stroke relative to antiplatelet therapy, but possibly not relative to anticoagulant therapy. PFO closure is associated with procedural complications and persistent atrial fibrillation. Consequently, the PFO closure plus antiplatelet therapy is strongly recommended compared with antiplatelet therapy alone; there is a weak recommendation for PFO closure plus antiplatelet therapy versus anticoagulants; there is a weak recommendation in favor of anticoagulants compared with antiplatelet therapy. The evidence for comparisons that included anticoagulants was low quality.
"Our panel believes that the mechanism of benefit with PFO closure is prevention of venous clots crossing the PFO. Anticoagulants are likely to be substantially more effective in preventing such clots from initially arising than antiplatelet agents," the authors write.
Abstract/Full Text
Posted: July 2018
Source: Read Full Article