Candace Cameron Bure Just Gave The Most Honest Menstrual Cup Review Ever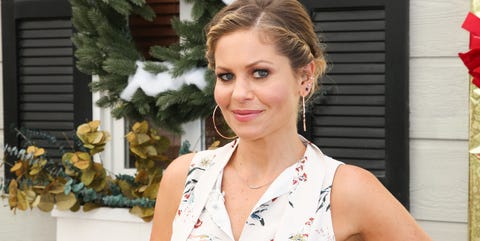 You probably know Candace Cameron Bure from Fuller House, but she recently decided to school her Instagram followers on her experience with menstrual cups.
"Ladies (and supportive gents), I tried a menstrual cup for the first time this month," she captioned an Instagram video, before pointing out that this isn't sponsored—she just wanted to talk about it.
But that Instagram video was just a short sampling of what went on in her Instagram Stories—seriously, she changed locations four times during her review..that's how intense it was.
Ladies (and supportive gents), I tried a menstrual cup for the first time this month. Wanna hear my thoughts? Watch this, except there's WAY more on my Instastory! This is not sponsored, just talking woman to woman, because I'm very open that way. I'll be reposting it on my Instastory highlights incase you miss it in real time. Happy periods ?!
A post shared by Candace Cameron Bure (@candacecbure) on
Candace, 42, started out by saying she'd never heard of a menstrual cup before her fans started telling her about it a few months ago. She said she thought it was "nasty" at first, but once her fans started reaching out telling her to try it, she decided to buy one (although she didn't disclose which brand) and give it a spin.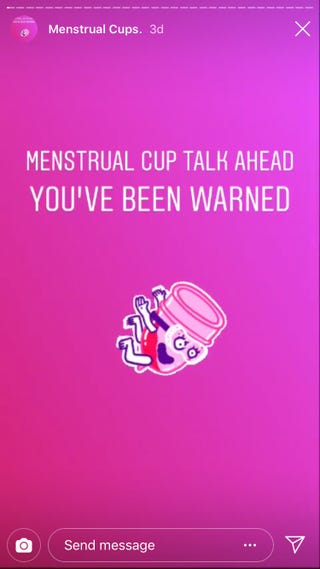 Candace Cameron Bure / Instagram: @candacecbure
Her verdict: While she was worried at first that it would be less comfortable and effective than tampons, she said she ultimately "loved it…loved it."
"I had really good luck the first time," she said. "I inserted it, it sealed. I left it in for 10 hours the first day and there was no leakage, no spotting, I mean, nothing." Candace also said she didn't feel the cup at all. "I was like, oh my gosh, this is really cool, and this is working," she said.
Candace also pointed out that the first time she used it, she had to "rigorously" exercise while filming Fuller House. "If this was going to fail at all, this would've been the time it was going to and it didn't," she said.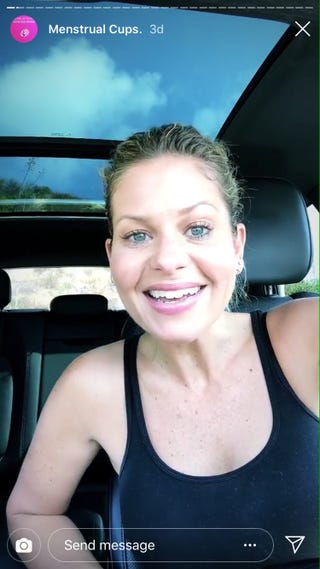 Candace Cameron Bure / Instagram: @candacecbure
She did, however, have a brief moment of panic when taking the cup out—and was super candid about it: "There were a couple moments where I was like, I don't think this thing is coming out, but it did," she said.
As for fans and viewers that are still a little bit squeamish about using a menstrual cup, Candace urged them to at least try it out: "It might be weird to think about putting a whole cup up there because it seems bigger than a tampon, and I get it," she said, "But I think you will be pleasantly surprised…that it will feel so much more comfortable for you."
And if you were still curious about menstrual cup use, Candace even did a quick Q&A session with her viewers, tackling questions like, "Can you sleep in it, swim in it, pee and poop with it in?" (All resounding yeses from Candace); and "Was it messy to take out?" ("No," she said. "It really wasn't.").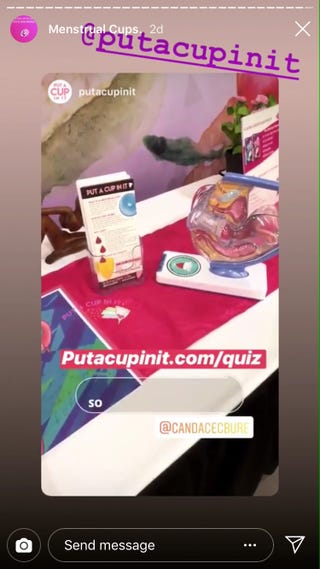 Candace Cameron Bure / Instagram: @candacecbure
Overall, Candace was clearly very happy with her menstrual cup experience, although she recommends that people make sure to pay attention to the size and fit. (She even re-posted a video from @putacupinit, referencing their menstrual cup quiz that is supposed to help people figure out size.)
And no, Candace has no plans to go back to tampons or pads. "I just like the thought of not having to put anything like that inside of me and also that it's better for the environment," she said.
*Adds menstrual cups to Amazon shopping cart.*
Source: Read Full Article