Most Pediatricians in the United States Do Not Support Spanking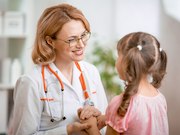 FRIDAY, June 29, 2018 — Most pediatricians in the United States do not support spanking children and are aware of evidence that spanking increases the risk of poor health outcomes in children, according to a study published in the Journal of Developmental & Behavioral Pediatrics.
Catherine A. Taylor, Ph.D., from Tulane University in New Orleans, and colleagues surveyed 787 pediatricians in the United States about their attitudes, beliefs, and perceived professional norms regarding spanking.
The researchers found that most respondents had been practicing physicians for ≥15 years (66 percent), were white (69 percent) and female (59 percent), with all U.S. geographical regions represented. About three-fourths of pediatricians did not support the use of spanking and most perceived that their colleagues did not support it either. However, pediatricians who were male, black, and/or sometimes spanked as children had more positive attitudes toward spanking. Overall, roughly 80 percent of pediatricians never or seldom expected positive outcomes from spanking, and nearly two-thirds expected negative outcomes some of the time.
"These findings suggest that most pediatricians will discourage the use of spanking with children, which over time could reduce its use and associated harms in the population," conclude the authors.
Abstract/Full Text (subscription or payment may be required)
Posted: June 2018
Source: Read Full Article