Young Pitchers Should Keep Pitch Counts in Check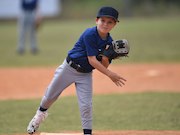 SUNDAY, July 8, 2018 — Young pitchers should heed pitch count guidelines if they want their elbows to stay healthy, new research suggests.
The Japanese study included 149 pitchers, aged 7 to 11, with no prior elbow pain who were assessed at the start and end of a baseball season. At the end of the season, the development of elbow pain was associated with throwing more pitches than what's recommended.
Specifically, throwing more than 50 pitches a day, more 200 pitches a week, and playing more than 70 games a year (the baselines established by the Japanese Society of Clinical Sports Medicine) were risk factors for elbow pain, the study found.
The study was to be presented July 8 at the American Orthopaedic Society for Sports Medicine's annual meeting, in San Diego.
"As the demand on young pitchers to play more increases, there is less time for repair of bony and soft tissues in the elbow," said study author Dr. Toshiyuki Iwame, from Tokushima University.
"We hope research like this continues to direct young athletes, parents and coaches to follow pitch limits to prevent injuries," Iwame said in a meeting news release.
U.S.-based Little League Baseball also recommends no more than 50 pitches per game for 7- to 8-year-olds.
Research presented at meetings is considered preliminary until published in a peer-reviewed journal.
More information
StopSportsInjuries.org has more on preventing injuries in young baseball players.
Posted: July 2018
Source: Read Full Article