A Love Letter To Croutons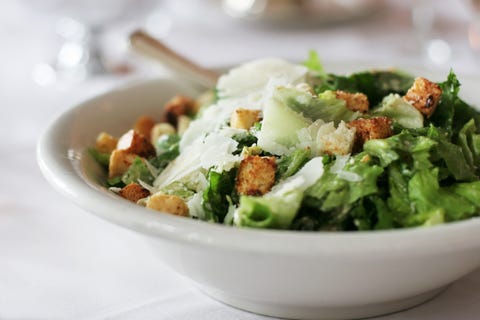 Growing up, my family had a Sunday-night tradition: We'd all load into the minivan and go to a restaurant that was just a giant salad bar with a soup station at the end for good measure. (If you still exist, I <3 you, Souper Salad.)
No one in the history of time has ever been as excited for a salad as I was for those Souper Salad creations. They involved mountains of iceberg lettuce, tomatoes, mushrooms, black olives, ranch dressing, and croutons—so many croutons.
I knew nothing about nutrition—lolz of course I didn't, I was 8!—but I knew that a salad was not a salad without croutons (and ideally also Goldfish…who cared if my plate was more carbs than veggies?).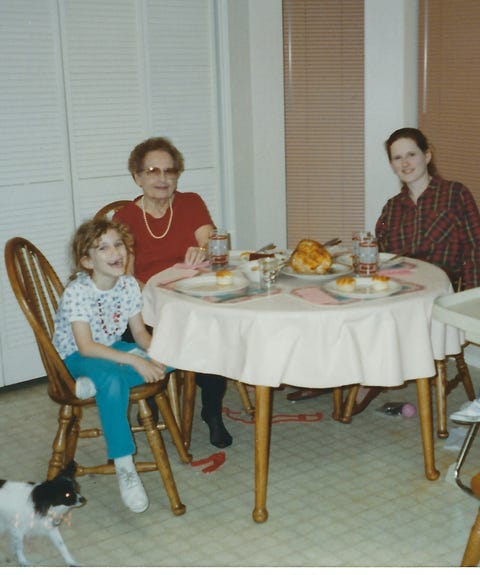 The writer around the time her love affair with croutons began

Courtesy of Robin Hilmantel
Now, as a card-carrying adult woman, I know "thou shalt not add croutons to your salad" is basically one of the 10 commandments, right up there with "thou shalt request your dressing on the side." The empty calories! The bad carbs! The bloat-inducing sodium!
I have to say, when I started following this edict (like the good rules-follower that I am), I didn't even want to lose weight. But I was a health-minded woman, and it was something all of my friends did. So I just figured I should, too.
(And I mean…even Women's Health recommended against putting croutons on your salad at one point.)
So I joined #teamnocroutons for a few years there, whittling my salads down to spinach, tomatoes, red onions, some balsamic vinaigrette, chickpeas, and just the teensiest bit of olive oil. All of the "good" things, and none of the "bad."
Suddenly, instead of looking forward to loading my plate up with veggies, I was a member of the sad salad club.
Then, while taking a mindful-eating workshop a couple of years ago, the instructor (an M.D. named Michelle May who created a program around the idea of eating what you're actually craving when you're craving it) said something that really stuck with me: "What's the point of saving a few calories if you don't actually enjoy your food?"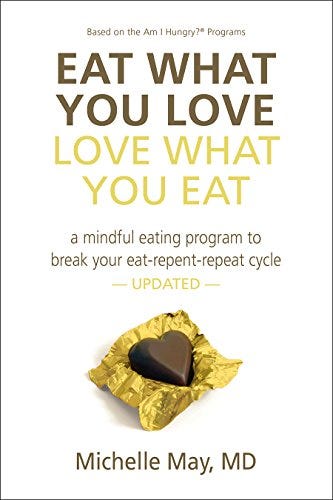 What a novel concept! I was saving calories—but at what cost?
As a little experiment, I took a look at the toll a croutons habit could realistically take on my weight: Left to my own devices, I would be putting about a third of a cup of the crunchy, salty goodness that is croutons on my plate. And that comes out to…62 calories and less than 10 grams of carbs.
In that instant, I had what I can only imagine Oprah would describe as an "aha" moment.
I'd been having depressing salads for ~years~ to save a measly 62 calories a pop? So many missed crouton opportunities!
I'm not saying everyone needs to add croutons to all of their salads, or that I am a proponent of the plate-full-of-croutons salads that I was into as a kid. And if skipping croutons is something that doesn't affect you living your best food life, then more power to you!
But am I proponent of feeling satisfied with your food—both physically and psychologically—even if that means a few extra calories? Hell yes.
"Nutrition really needs to be customized," says Angela Lemond, R.D. (Translation: The advice you read—even on WomensHealthMag.com—isn't one-size-fits all.)
"Food is meant to be enjoyed," she adds. "I can't tell you how many people just eat their vegetables raw or feel like dips are 'bad.' I keep telling people that if healthy fats or carbs make vegetables taste good to you, you absolutely should feel like you have permission to use them. A third-cup of croutons isn't going to hurt most people."
I am happy to say that I'm back on #teamcroutons, and I enjoy these meals SO. MUCH. MORE. And no, I didn't gain weight when I made this change.
Maybe your croutons aren't actually croutons—maybe it's dressing that is actually mixed into your salad, not giving you side-eye in a little plastic container that's separate from the rest of your dish. Maybe it's the scoop of real ice cream you've been passing up in favor of low-cal imitations that you don't find nearly as delicious.
Whatever your croutons happen to be, I implore you: Try just eating the damn croutons. And, hey, if you don't find it as life-changing as I did, you can always go back to skipping them.
Robin Hilmantel is the digital director at Women's Health.
Source: Read Full Article